School Info
Timetable of Classes
Sammy's Dance run all classes termly at Oasis Academy, Mayfield. Class levels are based on Ability, therefore some students may progress at a quicker pace than others
You can sign up to classes at any time via our contact form or by sending us an e-mail. Please see our current times listed below, if you require any information on any of these, please see the Classes pages or drop us a message.
Class Fees
Here at SSD we believe that Dance doesn't have to cost the earth, so we try to keep our prices competitive. Our genre specific classes are split into four price bands; Junior, Pre-Senior, Senior & Advanced to help reflect the length and level. Technique classes and private tuition are also available at an additional cost.
Term Dates
Term 1: Monday 30 August – Saturday 11 December (Half Term: 25-30 October)
Term 2: Monday 4 January – Saturday 9 April (Half Term: 21-26 February)
Term 3: Monday 25 April – Saturday 23 July (Half Term: 30 May – 4 June)
Important Date Changes
Saturday 2/10 moved to Friday 29/10
Thursday 14/10 moved to Tuesday 12/10
Saturday 23/10 – No classes
Friday 12/11 moved to Tuesday 9/11
Wednesday 8/12 moved to Tuesday 7/12
Uniform
At SSD we take pride in the way we look and feel for class. Our uniform follows guidelines set by the ISTD and NATD examination boards. Class uniform and our personalised kit is all supplied by Dancing Daisy of Ferndown.
Uniform is to be ordered through our online store here: https://dancing-daisy.co.uk/product-category/dance-schools-logo-uniform/sammys-school-of-dance/?affiliates=73
The store is easy to use and all items are delivered direct to your door.
Set Ballet Conditioning Kit List
The items listed below can be purchased from Ballet Pro UK: PBT_ Progressing Ballet Technique – BalletPro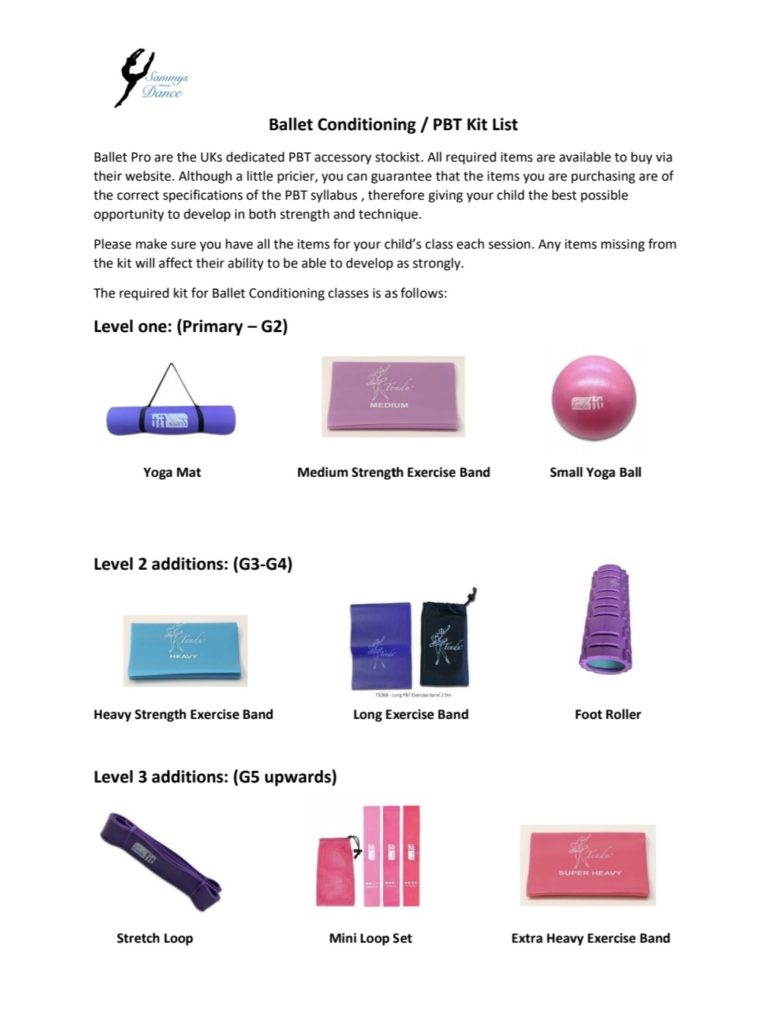 Exams
SSD offer students opportunities to take regulated exams in Imperial Ballet, Modern Theatre Dance and Tap with the ISTD, and Contemporary with the NATD. They are not compulsory. Parents will be notified in writing when their child is ready to do an examination.